Situation
SUEZ, a leading provider of water and waste recycling services for municipalities and other organizations across North America, desperately needed to revamp and modernize its aging, decentralized IT service delivery systems. The company was still using spreadsheets to aggregate company data, paper forms for official documentation, and email for submitting IT requests and issues. A simple, out-of-the-box ServiceNow solution wasn't adequate either. With 3,400 employees serving 16,000 industrial/municipal sites all across the U.S. and Canada, the company was looking for a series of specific, customizable solutions to make the transformation to an enterprise service management (ESM) organization. SUEZ did not want to waste precious time and resources taking on this monumental task on its own, so the company began searching for the right ServiceNow consultant.
Because of the complexity of the customizations that the company was seeking, SUEZ knew it needed to find an implementation partner that truly understood ServiceNow architecture and had extensive, deep experience implementing ServiceNow. Crossfuze was the logical choice. SUEZ knew it could count on Crossfuze to chart an efficient, viable path forward and oversee the successful transition of all SUEZ employees to the new platform.

Process/Solution
Crossfuze facilitated a complete overhaul of the company's IT systems and workflows that transformed SUEZ into a modern, nimble organization built on the ESM model of service delivery and management.
While on site, Crossfuze consultants installed the agreed-upon Turnkey solutions and demonstrated their capabilities to employees. The demos were instrumental in helping employees appreciate the ease with which adjustments can be made to the ServiceNow platform at any time.
Through a series of gap analyses over the course of initial implementation, Crossfuze helped SUEZ identify other areas that could be improved, including incident and change management, CMDB, reports, and service catalog. The company agreed with Crossfuze's suggestion to consider moving forward with these upgrades as well, and Crossfuze rolled out several additional Turnkeys.
Over an eight-week rollout period, Crossfuze consultants met with SUEZ on a weekly basis to guide the changing environment. Crossfuze set clear expectations and deliverables in an incremental manner to make the transition as smooth as possible. Throughout the process, Crossfuze offered multiple training sessions designed to facilitate onboarding of SUEZ's many ServiceNow users.
As Crossfuze's Turnkey solutions and other upgrades revolutionized SUEZ's IT service delivery and management processes, the company realized it would need an efficient way to administer and manage ServiceNow-related functions over the long term. Thus, SUEZ signed up for remote admin support through Crossfuze's iPOWER service. iPOWER handles high-volume, ServiceNow-related Service Desk tasks for SUEZ, enabling the company to better meet its service obligations at a lower cost.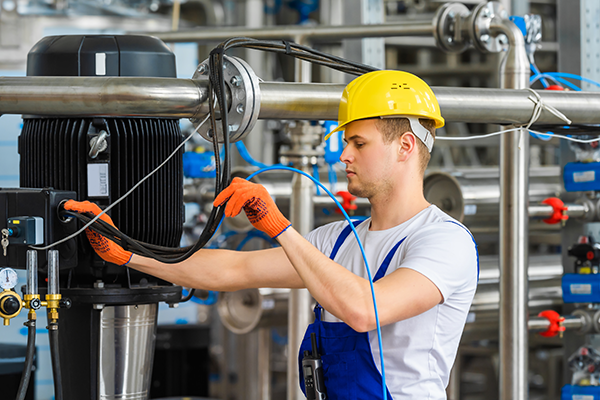 Result
Under Crossfuze's guidance, SUEZ transformed its antiquated, decentralized IT processes into an efficient system built with ServiceNow best practices and powered by multiple Crossfuze Turnkeys.
SUEZ's transformation to a paperless organization has allowed the company to significantly cut down on overhead costs. The digitization of all forms and documents on the ServiceNow platform has not only provided greater efficiency and security overall, but it's also created a smoother, streamlined experience for SUEZ's end users, who can now fill out service request forms online.
SUEZ has noted greater productivity post-implementation. With the aid of Crossfuze's Turnkeys and ongoing iPOWER assistance, the thousands of tickets and emails received daily are now automated, reducing the chance of human error and decreasing the time spent inputting data. Because of Crossfuze's commitment to incremental implementation and carefully timed ServiceNow user onboarding sessions for each new module, SUEZ reported no downtime within any systems during the transition.
In under 90 days, Crossfuze helped SUEZ actualize its needs, implement wholesale ITSM system changes, and onboard 3,400+ employees spread out across North America. Without Crossfuze's help, SUEZ was looking at an implementation timeline of at least six to 12 months. Crossfuze was able to accomplish the bulk of the work in a two-month period, even after the scope of the project expanded significantly after the implementation got underway.
SUEZ, a $1.1 billion global organization, has seen a significant uptick in the company's profitability–and didn't have to wait a year or more to begin realizing this strong ROI from its ServiceNow investment. The company is now optimally positioned to consistently deliver services rapidly and efficiently and to scale its IT operations as the business evolves.
"SUEZ's transformation to an Enterprise Service Management model has enabled us to focus on doing work that matters–meaningful work that improves our profitability as an organization. Taking this transformational journey with Crossfuze has allowed us to effectively reduce workflow waste and improve employee productivity. We continue to partner with Crossfuze to ensure our ServiceNow investment continues to show incremental returns."
–Rudy Ciprian, Help Desk Manager, SUEZ North America
Friday Fast Fifteen: Asset Management in a Work-From-Anywhere World
For this week's Friday Fast Fifteen, Kaitlyn Frank and Joel Gyolai discuss how Asset Management can benefit your organization as our workforces continue to change.
Friday Fast Fifteen: Building an Effortless Service Desk Experience on ServiceNow
Is creating an "effortless" user experience on ServiceNow achievable, or is it just hyperbole? In this week's Friday Fast 15, hear from Zach Brand, Director of Managed Services delivery at Crossfuze, as he shares how our award-winning Service Desk uses ServiceNow to create an effortless experience for customers and end-users.
On-Demand Webinar: Elite Group - A ServiceNow Success Story
ServiceNow's Customer Service Management module promises to help Unified Communications companies overcome these challenges. Here to share his own experience implementing ServiceNow Customer Service Management is Greg Voller, Head of Technology at Elite Group.